What are the most traded commodities in the world?
August 28, 2020
Posted by:

Canopus Innovation

Categories:

Commodities, Trade

Commodities trading is one of the most popular trading business after stock exchange. Commodity prices are volatile and this creates an opportunity for traders to profit by going long or short on these markets. Economists define commodities as basic goods that are exchanged, bought or sold in the commodity market for products of the same value.
Here we take a look at the top 10 most traded commodities in the world and we look at key factors that can affect commodity price.
Commodity trading goes back centuries. The first example of an organized exchange for trading commodities dates back to Amsterdam in 1530 and the first recorded commodity future trading dates back to 17th century, in Japan. Today, commodities are still exchanged throughout the world.
Commodities are classified into four categories: metal (such as silver, gold, platinum, and copper), energy (such as crude oil, natural gas, gasoline, and heating oil), livestock and meat (such as eggs, pork, cattle), and agricultural (such as corn, beans, rice, wheat).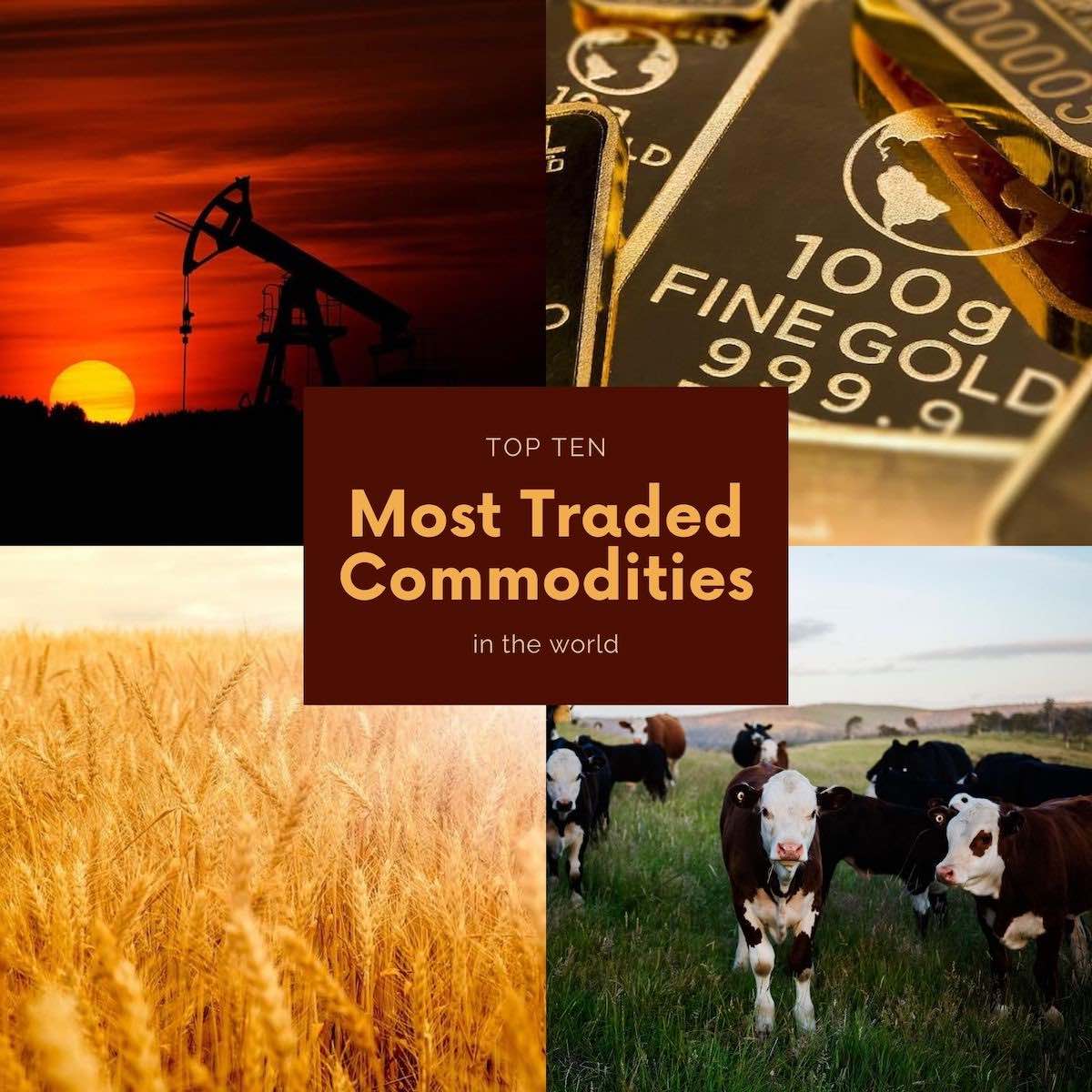 Top 10 most traded commodities in the world:
Gold
Crude Oil WTI
Brent crude (oil)
Natural Gas
Corn
Soybeans
Silver
Copper
Coffee
Sugar
This is based on an analysis of the most actively traded commodity futures in early September 2020., using figures from www.barchart.com
Gold
Invest in Gold is one of the safest ways to ensure wealth preservation. Gold is a precious metal that exists in shiny soft form. It has been a symbol of wealth and prosperity since ancient times and is the most popular metal as an investment. Around 60% of the demand for gold comes from the jewelry, electrical and medical industries, and the other 40% comes from investors and speculators. The gold market is subject to speculation, the price of gold especially rises during times of economic and political uncertainty. When the U.S. dollar goes down, gold price will go up.
Crude oil: West Texas Intermediate (WTI)
West Texas Intermediate (WTI) oil is the highest quality oil in the world, which is very suitable for refining and converting into a variety of petroleum products such as gasoline. This oil is very light and contains only 0.24% sulfur which makes it made it one of the sweetest oils in the world. Spot and futures prices of West Texas Intermediate (WTI) crude are used as a benchmark in oil pricing.
As a valuable and strategic commodity, oil is closely related to the economic, political and even military factors and activities of countries.
Crude oil: Brent crude
Oil is one of the most actively traded commodities in the world. Brent Crude is extracted from the oil fields in the North Sea between the Shetland Islands and Norway. Brent has a sulfur content of 0.37% which is higher than WTI (0.24%). After production, crude oil is refined into many different products including gasoline, diesel and lubricants, along with many petrochemicals that are used to make plastics. Brent futures contracts are traded on the Intercontinental Exchange in London.
Crude oil generally reacts to the laws of supply and demand, the higher the demand, the higher the price. Prices usually rise during boom periods and fall during economic slowdowns.
Natural gas
Natural gas is the earth's cleanest fossil energy source, used as a source of energy for heating, cooking, and electricity generation. Natural gas resources are very limited. It has cemented its position as one of the most traded commodities in the world. Russia is the world's leading exporter of gas, Canada is the second primary exporter and in the third position is Norway. Increases in demand lead to higher prices, and decreases in demand tend to lead to lower prices. Economic growth, impact of weather and competition among resources can affect natural gas prices.
Corn
Maize, also known as corn, is a cereal grain first domesticated by native peoples in Mexico about 10,000 years ago. While a small portion of "Field Corn" is processed for use as human food, it is primarily used for livestock feed. Corn will grow best in areas with plenty of sunlight, it is one of the most grown crops in the world. The price of corn is mostly affected by the demand for animal feed and biofuels, weather patterns  and strength of the US dollar.
Soybeans
The soybean is a species of legume native to East Asia, Soybeans are widely distributed in East Asia, Australia, and Africa. Soybeans are processed for their oil and meal (animal feed). A smaller percentage of it is processed for human consumption (soy milk, soy flour, soy protein, tofu and many retail food products). The soybean is economically the most important bean in the world because it is rich in protein and relatively cheap to produce. Soybean plants can be grown in any climate with a warm growing season and ample water and sun. Soybean production is domineered by Brazil (leading Soybean producer as of May 2020), the US and Argentina, which account for 81% of global output.
Among economic and trade factors that can move soybean prices are: US production, US dollar strength, Market demand, alternative oils, ethanol subsidies, weather conditions and health news.
Silver
After gold, silver is the second precious metal on our list. Like gold, silver has been traded since ancient times and can be viewed as a safe-haven investment since its value will surely hold no matter what happens to the economy. Silver has an illustrious reputation for its use in jewelry and coins, but today, industrial usage of silver (including glass coatings, LED chips, medicine, nuclear reactors, photography, solar energy) accounts for about 60% of its annual demand. The price of silver is notoriously volatile compared to that of gold because of its lower investment value and demand. Its price is driven by speculation and supply and demand, like most commodities. when supply increases relative to demand, prices fall and when demand increases relative to supply, prices increase.
Copper
Copper is an important base metal and is widely used in the manufacturing industry, such as power generation and transmission, construction, factory equipment and electronics. This is because it is an exceptionally good conductor of both heat and electricity. Chile is the world's leading producer of copper in the world. Peru is the second followed by China and the US. Factors affecting copper prices include supply and demand, US dollar, speculation, economic activity and current stockpiles.
Coffee
Coffee is a soft commodity derived from a plant that grows mostly in tropical regions. Coffee is one of the most popular and widely consumed beverages in the world. With over 2.25 billion cups of coffee consumed worldwide on a daily basis, coffee is the second most traded commodity in the world after oil, More than 150 million Americans drink about 400 million cups of coffee per day or more than 140 billion cups per year (Source: myfriendscoffee.com). supply and demand mostly drive coffee prices, other factors include geopolitics, discretionary income, transportation and health issues.
Sugar
Last in our list of top ten most traded commodities is sugar. Sugar is a sweet flavored, soft commodity that is produced, traded and consumed all around the world. Brazil and India are the world's largest sugar producers. Weather is a big factor in the world's production of sugar cane and sugar beets. Other factors that drive sugar price are: global sugar stocks (inventories), inflation of US dollar, oil price, governmental regulations and consumption trends
Risk Disclosure: Canopus Innovation GmbH offers information about investing and Trade, but not personal advice. The information and materials on this website does not contain a record of our trading prices, or an offer of, or solicitation for, a transaction in any financial instrument. Trading in financial instruments or cryptocurrencies carries a high level of risk, including the risk of losing some, or all of your investment amount and may not be suitable for all investors. Before deciding to trade in financial instruments or cryptocurrencies you should be fully aware of the risks you take, carefully consider your investment objectives, level of experience, and risk appetite, and seek professional advice from an independent financial advisor if you have any doubts.
Canopus Innovation would like to remind you that the data contained in this website is not real-time nor accurate and may differ from the actual price at any given market, meaning technical indicators and prices are indicative and not appropriate for trading purposes. Any comments, news, research, analysis, price, or other information on this website are provided as a general interpretation of the market and must not be considered as investment advice at any circumstances. Canopus Innovation accepts no responsibility for any loss or damage, including without limitation to, any loss of profit, which may arise directly or indirectly from use of or reliance on such information.